New England Destinations & Itineraries

Traditionally most of the popular charter yachts visiting New England during the summer are booked during August for the New Yacht Yacht Club Cruise, or various other cruising clubs. The 155th annual NYYC cruise this summer is July 29 to August 6, finishing in Newport, but they are also running a cruise in Maine, from August 8 to 14. If you are dreaming of visiting quaint Nantucket or Martha's Vinyard, or exploring the fabulous coast of Maine during peak season, it's certainly not too early to start looking!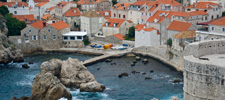 Mediterranean Destinations & Itineraries
A Mediterranean yacht charter is a much in demand holiday idea. You have two choices of travel routes, the Eastern Mediterranean and the Western Mediterranean.

Destinations in Western Mediterranean and Eastern Mediterranean are available for super yacht charter. The region is popular for its unique markets, lovely beaches and historic monuments. You can savor the sights, sounds and colors of beautiful locations in this region. The Super yacht charter in these regions make for the following experiences:

Seamanship Classes in Newport & Maine this Summer on board BONNIE LYNN a beautiful 72′ schooner

Bonnie and Earl McKenzie will be running their Seamanship Classes again this summer in Newport and Maine on their beautiful schooner 'Bonnie Lynn'. This is in addition to the regular private crewed sailing charters they offer.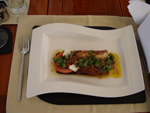 Charter Yacht Recipes
From the Galley of S/Y PACIFIC WAVE - Chef Mark Miles
Dorado Stacks with Salsa Verde
This is an excellent lunch or dinner entrée. I have combined numerous vegetables and textures so that it can be served on its' own without additional side dishes.

Summer Specials
MATELOT is offering 20% OFF for June 2011 Charters in Croatia !
Hurry -- book now & SAVE € 5,000 PER WEEK off the regular weekly rate of € 25,000 + all expenses
TIVOLI Summer Special!!$25,000 plus all expenses for charters taking place from now through 30 September