Dorado Stacks with Salsa Verde
Chef: Mark Miles of Pacific Wave
This is an excellent lunch or dinner entrée. I have combined numerous vegetables and textures so that it can be served on its' own without additional side dishes.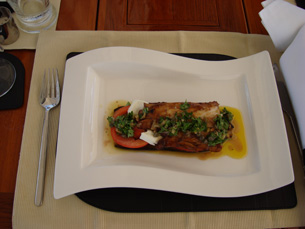 Ingredients – Serves 4
4 Dorado fillets (or any other meaty white fish with no bones)
1 large Aubergine (Egg Plant) – cut into ½ inch thick slices
2 Beef Tomatoes – thinly sliced
1 Small ball of Mozzarella Cheese – thinly sliced
1 handful of Fresh Basil – remove stalks
2 tablespoons Balsamic Vinegar
3 tablespoons Olive Oil

For the Salsa Verde
2 large handfuls Parsley – finely chopped
2 tablespoons Capers – rinsed
1 tablespoon Dill Pickles – finely chopped


1 tablespoon Anchovies – finely chopped
2 cloves Garlic – crushed
3 tablespoons Red Wine Vinegar
3 fl oz Olive Oil

Process
1. Make the salsa verde by combining the parsley, capers, dill pickles, anchovies and garlic in a bowl, then stir in the red wine vinegar and olive oil. Set aside.

2. Brush the aubergine (egg plant) with some of the olive oil and cook under a hot grill or in a griddle pan until golden brown on both sides. Drain on kitchen towel.

3. Heat a little oil in the griddle pan and cook the dorado fillets until golden brown. Add the balsamic vinegar to the pan with the fish and cook for 1 minute.

4. On 4 serving plates layer the aubergine (egg plant) followed by the basil, tomato, mozzarella and dorado. Then drizzle with the salsa verde and serve.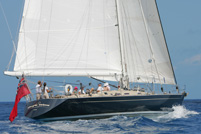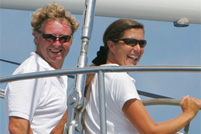 S/Y PACIFIC WAVE Chef Mark Miles - Captain Lynn Griffiths