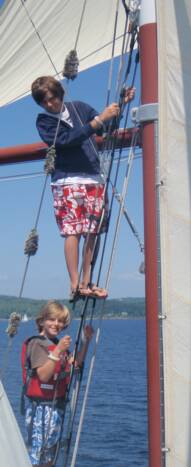 Seamanship Courses this Summer 2011
We will again be offering Junior Seamanship Courses on Islesboro, Maine this summer, as well as expanding the program to include adult courses. Stay tuned -- the Islesboro schedule will be posted at a later date.

During the months of June & October we will be offering Junior and Adult Seamanship Courses out of Newport, Rhode Island.
"Our goal is that the students who take our course will be better prepared to handle the unexpected circumstances that can arise when boating. An increased awareness will help them avoid dangerous situations. BONNIE LYNN is the ideal classroom. Last summer, in our beautiful homeport of Islesboro, Maine, we offered 2 day / 1 night courses for 9 - 11 year olds and 3 day / 2 night courses for 12-15 year olds. Six to eight students slept onboard and worked as part of the crew."
- Captains Bonnie & Earl McKenzie