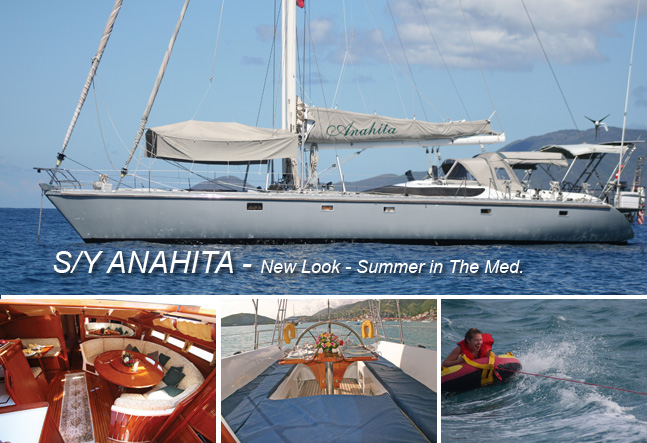 ANAHITA has recently completed a late winter yard period in Trinidad and is sporting a newly painted hull, fresh varnish and other TLC. Presently in the Virgin Islands, ANAHITA is completing her final charter of the Caribbean season. Prior to departing for the Med, Captain / owner Bijan Kalantari will add an upper pullman berth in the starboard double cabin to make it more versatile for his ocean crossing passengers.

ANAHITA Transatlantic Opportunity
For the last two summers, ANAHITA has taken charter guests for the Transatlantic crossing, which has been very successful and enjoyable for all. Sailing offshore has been described by charter clients as "the adventure of a lifetime!" There is nothing like an ocean crossing to truly get away from the media frenzied world. It is also a great way to hone offshore sailing skills, add sea miles to a sailing resume or learn celestial navigation. Bijan and Roseanne are warm, hospitable hosts and very competent sailors. For this year's Atlantic crossing in early May, they would love to welcome aboard two passengers for the following legs:
1st leg - Caribbean to Gibraltar:
Boarding and departure can be from St. Thomas, St. Martin, or Antigua with final destination and disembarking in Gibraltar. The trip will include a 3-day stop in the Azores.
Total Duration: 30 days. Cost: $ 5,000 per guest, all inclusive except bar.
While in port at the Azores only continental breakfast will be served, and guests will take lunch and dinner ashore at their expense in order to give the crew a chance to re-provision and prepare for the rest of the trip.

2nd leg - Gibraltar to the Adriatic:
Boarding and departure will be from Gibraltar with arrival in Budva, Motenegro. This will be a non-stop trip -- Duration: 11 days. Cost: $ 3,000 per guest, all inclusive except bar.


See More

ANAHITA Recent Guest Comments
Dear Bijan and Roseanne:
Our fourth trip in four years. We have sailed the West Indies with you from Petite St. Vincent to St. Martin,
(And of course a lovely sejour along the coast of Maine).
This trip from St. Martin to St. Barth, Statius, Saba, St. Kitts and Nevis was magnified from the truly remarkable gourmet kitchen commanded by Roseanne to the superb sailing under Bijan's guiding eye.
No detail was too small, no kindness overlooked. Your hospitality is without peer. We all have had a wonderful rested week.
2011 - St. Kitts






ANAHITA accommodates 6 guests in 3 cabins
Summer 2011 West or East Mediterranean & Croatia

Priced in US Dollars!
$ 8,500 / 2 guests, $10,000 / 4 guests, $11.500 / 6 guests; Plus All Expenses

Looking ahead: ANAHITA will return to the Caribbean for winter 2011-12 ...