Ree 112'
Sleeps 10 guests 5 cabins

Valdettaro Shipyard, Italy and designed specifically for luxury charters
Lady Bou Bou 62'
Sleeps 6 guests 3 cabins

recently launched is a Van Peteghem - Lauriot Prevost Lagoon 620
Tivoli 90'
Sleeps 6 guests 3 cabins

Doggersbank offchore expedition vessel with worldwide cruising capabilities

Matau 74'
Accommodates 8 guests 4

A Marc Lombard designed Privilege Catamaran. There are so many choices on deck – the trampolines, aft deck, bridge deck, the "teak beach", and broad steps aft – that everyone will find their own favorite spot.
Oceans 7

2


Accommodates 8 guests 4

Oceans Seven Squared is the only sailing yacht (of any size) offering the alternatives of 4 king size berths, 8 twin berths, or a suite with one king and two twin berths/settees and two full baths.

La Forza Del Destino
Sleeps 6 guests 3 cabins

A beautiful example of the Swan 77, it represents the ultimate in luxury with 20 feet of beam for massive interior volume.

Experience the Grenadines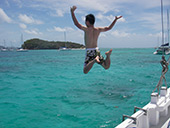 The turquoise waters of the Grenadines teem with sea life in a rainbow of colors only found in nature. Palm trees and tropical flora sway to the sensual breeze of the trade winds.
Leave the crowd of the Virgin Islands behind and sail to secluded anchorages that whisper of the days of old onboard the Traditional spacious, airy and affordable Schooner JAMBAYALA.
<< More on Sailing the Grenadines with JAMBAYALA >>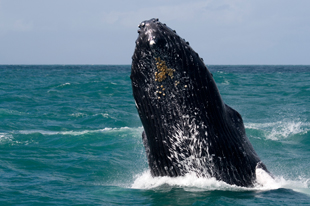 M/Y TIVOLI, 90' Luxury Offshore Expedition Vessel will be in the Virgin Islands from March until May before heading to New England for the summer. Captain John Spenlinhauer and crew a very EXCITED!.... Why?..
Whales travel from South America through the Caribbean to mate and calve. On their way to New England they pass through Sir Francis Drake Channel by St. Thomas USVI and the BVI's where calves spend their first few months of life building up a layer of blubber to keep them warm in colder water.
So pack your cameras, a copy of Moby Dick and join M/Y TIVOLI in the Virgin Islands for prime whale watching time off St. Thomas and St. John in March.
<< More on M/Y TIVOLI and Whale Watching in the Caribbean >>