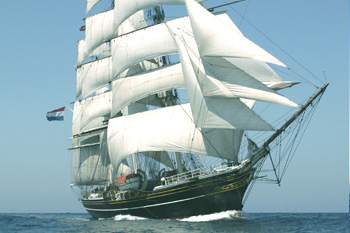 STAD AMSTERDAM,
250' CLIPPERSHIP
Last minute 10% discount!
for March 12 – March 21
nine day cruise on . . .
The best of both worlds! On deck – an authentic 18th century sailing experience, below deck – 21st century comfort, conveniences and communications.
ITINERARY: Martinque – Martinique with stops in Dominica, Bequia, Tobago Cays, St. Vincent – featured in 'Pirates of the Caribbean' - and St. Lucia, site of Soufriere volcano.
Discounted cabin booking rate - € 1,485 per person (approx. 1930.50 USD) double occupancy; €2,227.50 (approx. 2,895.75 USD) single occupancy.
Includes: Daily Continental breakfast, Lunch, Afternoon snack, Fresh fruit, 3 course dinner (buffet or served), plus Cocktails and Captain's dinner on the final night aboard.