Due to Her Late Arrival QUEEN SOUTH III is far away from the other Nicholson Yachts at Falmouth Harbour Marina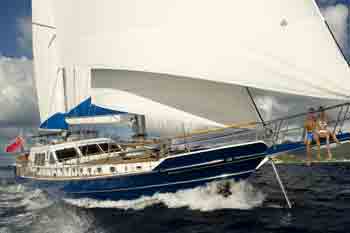 Be sure to ask 'the golf cart drivers' to take you to QUEEN SOUTH III, the stunning 118' Chian Marine ketch with 4 en suite cabins.
QUEEN SOUTH III is docked at the west end of North Middle Dock at Falmouth Harbour Marina.
Captain Edson Hazell and crew are eager to show you the many luxurious features onboard.