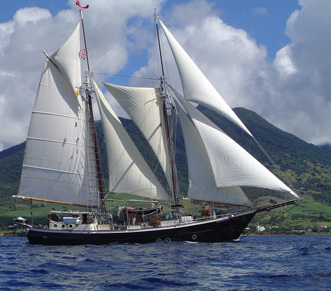 A winning combination – Sailing in Maine on the classic SCHOONER BONNIE LYNN while enjoying traditional kosher meals prepared by your personal chef!

SCHOONER BONNIE LYNN is pleased to offer strict kosher charters in Maine this summer. Versatile Chef Bonnie Mackenzie is experienced in preparing delicious kosher meals and her galley is now fully equipped to meet all necessary dietary requirements.
Based in Rockland, Maine -
$9,500/2 $11,000/4 $12,000/6, plus all expenses.
Current bookings:

Jun 28 / Jul 01, 2013 Islesboro – Islesboro, Maine
Jul 01 / Jul 07, 2013 Rockland – Rockland, Maine
Jul 13 / Jul 23, 2013 Maine - TBA
Jul 29 / Aug 01, 2013 Islesboro – Islesboro, Maine
Aug 16 / Aug 24, 2013 Rockland - Rockland, Mai