S/Y DESTINY and S/Y CAMPAI
Won TWO PRIZES in the
2012 NEWPORT CHARTER SHOW CHEF's COMPETITION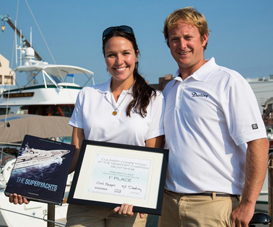 Congratulations to 1st Prize Winner - - drum roll please –
Chef Megan Puorro on the newest yacht in our fleet, 70' Hylas S/Y DESTINY!!

Chef Megan and Captain Gunnar Williams, both Texans, joined the newest yacht in Nicholson's Fleet just 3 weeks ago. In fact, Megan had never made chowder before, let alone going up against yacht chefs in New England!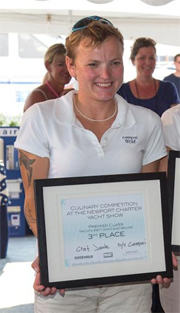 And now, a round of applause for 3rd Prize winner Chef Jade Kunst on S/Y CAMPAI, 72' Southern Wind. Jade is from Canada's Vancouver Island where her home is a 38' junk schooner. She enjoyed the challenge of adapting local Narragnsett Bay seafood to her innovative West Coast cuisine.

Well done Megan and Jade! (We're still trying to teach them how to say chowda with a Rhode Island accent.)
_________________________