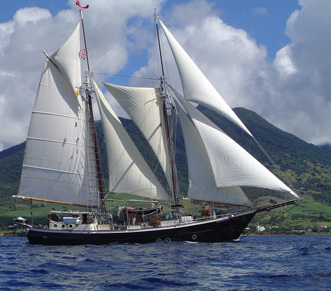 BONNIE LYNN
Since the America's Cup World Series will be held in Newport from
June 23 - July 1, we will remain in the area until the first week of July.
We have secured dockage at the Newport Harbor Hotel to be available for charter during the Series.
As a US Coast Guard inspected vessel we can legally carry a large number of guests for these events.
We plan to sail to Maine the first week of July and will charter the Maine coast and offshore islands until mid-August.
We hope to book charters downeast Maine to New Brunswick. Canada, including Grand Manan and Campobello Islands, Passamaquoddy Bay and St. Andrews, then to St. John and up the St. John river to Fredericton.
Will return to Newport and available for charter September -October
Summer 2012
6 - 12,000 USD 4 - 11,000 USD 2 - 9,500 USD Week +all exp
Newport: April - First week in July
Maine: July - Mid August
Newport: September - October

pdf Bonnie Lynn Summer Schedule Promotion