Wednesday DECEMBER 7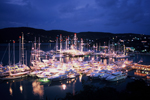 Fantastic Falmouth Harbor Yacht Hop!

Clear skies, tropical cocktails and tasty nibbles added up to fun for all last night in Falmouth. Onboard MATAU everyone was 'dancing on the decks' to the rhythms of a great local band. AFRICAN QUEEN, AURELIUS, CAMPAI, EROS, GITANA, LADY ANGELE, MELINKA, REE AND TILLY MINT's warm hospitality put everyone in festive holiday spirits.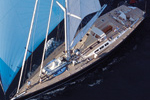 OCEANS 7 SQUARED, the beautiful 104' Faroux sloop, has arrived and is now showing in the dockyard. She is available for charter ending on the 26th with drop off in Antigua. NEWLY REDUCED RATE: USD 62,000/8, plus all.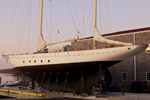 SINCERITY, 95' Baglietto classic ketch, is at the Catamaran Club finishing up painting which was delayed by rain. She is showing BY APPOINTMENT and still has a few openings for broker lunches. Available for Christmas and New Year's, USD 13,800/4 plus all.