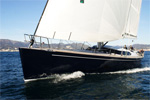 MATELOT: After a successful charter season in the Mediterranean, MATELOT is off to the yard in France where her mast will come out and all her standard rigging will be replaced as well as a revamp for the air conditioning system and other preventative maintenance jobs will be performed.

Captain Angus and his wife, Jessie (a very talented chef) will be returning to the Caribbean, after their first season away in 8 years. They are eagerly anticipating their return to the Caribbean. Their 2 favorite chartering areas: BVI's where the cruising areas are in close proximity of anchorages and sheltered sailing and the Grenadines due to the diverse anchorages, beautiful scenery and wonderful sailing between anchorages.

MATELOT will be based in Antigua and look forward to a busy charter season in the Caribbean.
___________________________________________________________________________________________


THE DOVE is currently completing a major refit in Trinidad. Her coach roof and all decks have been stripped of their fittings and teak. She is having all new teak decks installed and her topside repainted. The lovely new interior includes Nina Campbell Chenille fabric cushions and upholstery as well as new mattresses and Italian cotton linens.

Her cutlery is a new design by Christofle of Paris and guests will wake to the fresh aroma from her new Nespresso Coffee machine including a varied collection of worldly coffees.

THE DOVE's talented hostess, Justyna, is on board for another season to delight guests with her friendly, bright demeanor and delighted to offer her guests a professional reflexology session at the end of a sun drenched day in the Caribbean.
___________________________________________________________________________________________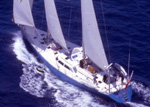 TABOO will re-launch in late October after her annual maintenance haul out in Trinidad. Last year her shiny new paint job was the highlight of the job list. This year the cockpit table and salon dining tables have been replaced and a new generator, as well as some interior teak has been added or replaced. TABOO is looking great and her veteran owner / crew are eager to welcome you on board at the Antigua Show and to delight your clients with their renowned charter service and hospitality!
___________________________________________________________________________________________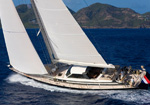 ICARUS: Captain Barry Duck reports that ICARUS will be "fighting fit" for the upcoming winter charter season in the Caribbean. She is sporting a new custom main sail and head sail and has spent several weeks in the yard in Palma completing painting projects and routine preventative maintenance to ensure the comfort and reliability that ICARUS is known for.

Chef Sophie has been busy trying out new recipes and techniques to the delight of summer guests on board ICARUS. The entire crew of ICARUS looks forward to welcoming your clients aboard this beautifully appointed Jongert in the Caribbean during the winter season.