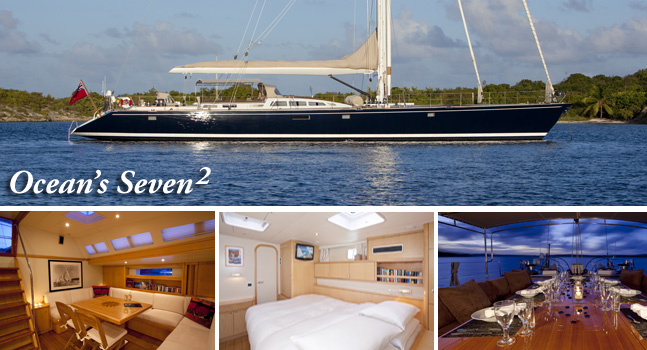 |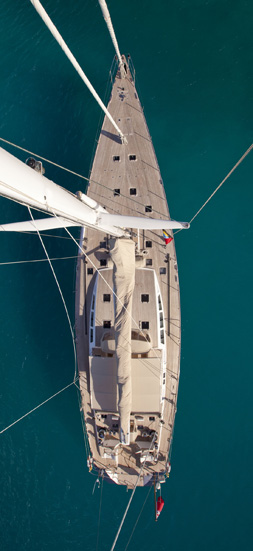 Updated e-Brochures

For your convenience, the e-brochures for OCEANS SEVEN SQUARED (formerly Kalikobass II) on Charter Index, MYBA Net and CYA have been updated with photos from OCEANS 7²'s recent photo shoot showing off her new interior. In addition all e-brochures have updated crew profiles with Katie new sample menu, profiles on the new mate and stewardess & crew photos.

Summer 2011

OCEANS 7² will depart Antigua this week for the Mediterranean and is available for charter beginning in the second week of June, basing this summer in Croatia.



Exciting upgrades & new equipment -- both
above & below decks !

OCEANS 7²'s interior has been redecorated in an elegant, monochromatic style with contrasts of red, and finished with classic Tibetan and Lunar landscape photographs – complimenting her beautiful ash paneling.

A new state of the art computer system has been added on board OCEANS 7² -- complete with upgraded on deck repeater. All of OCEANS 7²'s B & G Marine systems have also been upgraded with the latest generation.



To enhance her already exceptional sailing performance, OCEANS 7² has brand new high-modulus carbon racing sails, special racing antifouling, and all new running rigging. The bow pulpit seat has been removed to allow more effective use of spinnakers and in addition the yacht now carries shorthand friendly downwind sails for use on charter. OCEANS 7²'s steering wheels are being replaced with high tech carbon / titanium models.