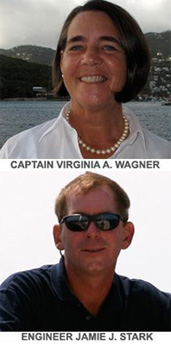 Dear Brokers,
If you will be attending the Newport Charter Show next week, please be sure to include the AYCA seminar in your plans. The Association has worked hard to put together an interesting and informative agenda which will include a talk given by yours truly entitled "Destination - The Grenadines!"
While MATAU is in New England for the summer she is being used privately and is not able to participate in the Newport Show -- however she will be available in Tortola and Antigua again for your inspection.
MATAU departed the Caribbean in mid-May and Jamie, the crew & I had a fantastic sail to New England! We caught loads of fish, cleared into beautiful Newport, visited with the Nicholson ladies and other good friends for a few days and are now in breathtaking Boothbay, Maine.

We are entering our 3rd year with Travis Yachts --- by far the best boss in our long yachting career! The first year we were on board TRUE NORTH and are entering our second year now on MATAU. We have spent 90% of our time with Travis Yachts chartering in the Grenadines, this in addition to the many years we have spent there since embarking on our yachting careers in 1986. We have seen changes throughout the Caribbean over the years, however we especially enjoy showing charter guests the Grenadines for their unspoiled and non-commercial beauty along with their genuinely friendly and welcoming people. I am both delighted and flattered to have been asked by the AYCA to speak on this wonderful charter destination at their seminar during the Newport Charter Show. I look forward to seeing many familiar faces there and to helping you in marketing this very special cruising ground.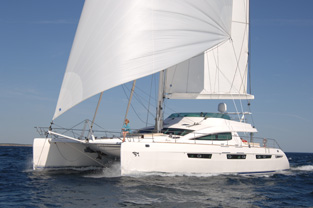 During this past winter, MATAU was very pleased to host Ann Wallis White, Karen Kelly-Shea, Kim Kavin, Elaine Lembo and Billy Black for a trip in the Grenadines - look for press coverage this fall!
We understand the value of your clients and the importance to us all of earning their repeat business. We assure you that yours and your clients interest are Travis Yachts' top priority and that your clients will be in good hands on board both MATAU and TRUE NORTH. The goal of Travis Yachts together with Nicholson Yachts is to earn your complete confidence & assurance of a worry-free booking and that every charter party will experience "the vacation of a lifetime" that they will wish to repeat again and again.
If you are not able to attend the Newport Charter Show please contact the very helpful ladies at Nicholson Yachts and they will be pleased to send you a copy of the Grenadines charter information and itineraries that we have put together.

All the best & fair winds,
Captain Virginia Wagner, Engineer Jamie Stark & crew on behalf of Travis Yachts