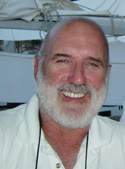 Captain Murray Jacob
With Murray Jacob as your captain you are in good hands, and guaranteed to have an unforgettable voyage. Murray hails from Australia, enjoys travel, meeting people and taking care of boats – perfect qualifications for his position on EDEN. As captain, Murray brings not only his vast experience in the yachting industry, but also his good natured, relaxed manner and a keen sense of humor. He has been described as not only "absolutely professional and an excellent seaman" but also as "a good conversationalist and pleasant company".
Murray has captained charters throughout the Caribbean, New England and the Eastern/Western Mediterranean. He has participated in many offshore races, including four Sydney/Hobart Races, and has covered thousands of sea miles around the globe. Murray has also spent time as a lecturer in navigation and seamanship for both technical and continuing education programs in Australia, and in the mid to late 90's Murray ran his own sailing school and conducted charters in the Whitsunday Islands of Australia and the Greek Islands. He is now in his young 60's, and holds several Australian Yacht Master Certificates, including Offshore and Inshore Instructor and Rescue Boat Instructor.