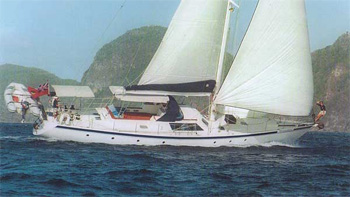 Snorkeling Safaris on MAKAYABELLA are a big hit !

"An awesome experience of a lifetime to enjoy the underwater world and then to take home the memories on a CD tops it all."

Guests on Makayabella love John and Sue's personally guided safaris! They enjoy sharing their knowledge of the coral reefs and know just where to find unusual sea creatures.

Using the yacht's underwater digital camera, guests snap about 200 pictures and take home a CD momento.

Winter 08-09: Caribbean
2 - 8000 US$ 4 - 9500 US$ 6 - 11000 US$
Inclusive except: bar, taxes, dockage, communications, x 1 dinner ashore at charterers expense
Summer 09: Caribbean
2 - 9000 US$ 4 - 10500 US$ 6 - 12000 US$ - Caribbean
Inclusive except: bar, taxes, dockage, communications, x 1 dinner ashore at charterers expense