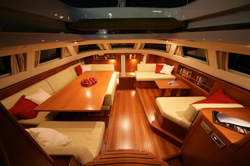 Launched in 2005, MATELOT is hull number 2 of the Southern Wind Shipyard Farr 80' Nauta deck saloon sloop.
MATELOT has had a busy winter charter season with 6 weeks of repeat charters so far this winter. Captain Angus Fuller would like to remind you that MATELOT still has an opening for the last two weeks in April at the reduced winter Caribbean price of $25,000, Caribbean Terms.
Between charters Angus has had the decks freshly sanded and

are looking like new, and the main generator received a complete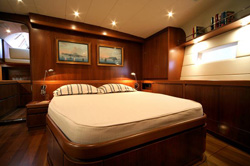 overhaul earlier this month. MATELOT is UK flagged and maintained to MCA category 2 and consistently in top condition. Angus reports that the yacht has more back up and redundancy in systems than do must yachts in her size and class. For instance, MATELOT has 2 generators offering guests the option of running air conditioning 24 / 7. She also has 2 water maker units with a capacity of up to 420 liters of fresh water per hour, 2 full refrigeration systems and 2 air conditioning chiller units. In addition to her rigid routine maintenance schedule, MATELOT recently received new luxury bed linens, and a new suite of carbon fiber sails is currently in build.
While offering guests luxury and comfort, MATELOT is a true performance sailor having placed 1st in the 2007 ARC and 2nd in the ARC race in 2008, each time out of a fleet of 225 yachts.
MATELOT's separate guest and sailing cockpits offers guests who wish to be away from the sailing action a spacious and comfortable area to relax.
________________________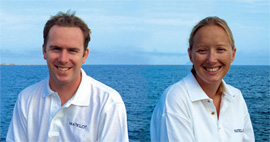 Captain Angus Fuller has been cruising in the Caribbean since 1996 and skippering yachts in the Caribbean since 2001.
Angus and chef Jessie were married in October of last year and have worked together for the owner of MATELOT for four years, having run his previous yacht MATELOT (an Oyster 66.) Angus and Jessie have extensive knowledge of the Western and Eastern Mediterranean cruising areas, as well as the Adriatic / Croatia.
MATELOT is available for Summer 2009 charters in Croatia / East Med
at € 2,000 less than the summer 2008 rates.
June & September 2009: € 20,000 plus all expenses; July & August 2009: € 22,000, plus expenses