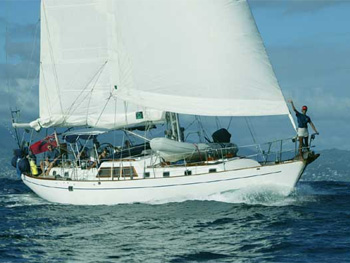 After chartering for over 20 years,
THE DOVE
owner / operator Larry Tyler has had so many repeat charter clients that express an interest in trying something new or exploring a different area.
So Larry has come up with an idea that he hopes will be an interesting charter option for repeat or new charter clients for THE DOVE.
The TransCaraibes is a "fun rally" starting in Guadeloupe on April 4, 2009 and ending in Cuba 3 weeks later.
The sailing route is via St Martin, the Dominican Republic, Haiti, and Jamaica, ending on April 25th on the South West coast of Cuba.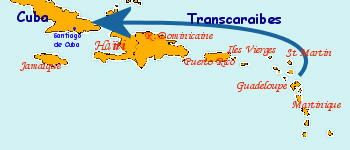 THE DOVE is available to be chartered for the TransCaraibes Rally for either all or a part of the Rally.
For the whole 3-week rally Larry is offering THE DOVE at the very special price of pay for two weeks and get the third week free!
For more information and the complete itinerary for the TransCaraibes Rally visit the web site: http://www.transcaraibes.com/
THE DOVE will then remain in Cuba and be available for charters in Cuba for the month of April.
For the summer season Larry is looking at two options for THE DOVE :
~ Sail THE DOVE to the Azores for the summer. She is now accepting passengers for the Atlantic crossing, with a possible boarding point of Bermuda (to be confirmed) as well as summer charters in the Western Mediterranean.
~ Another alternative would be to sail to Cartagena, Colombia and then on to the San Blas Islands where THE DOVE would be available for the summer season.
THE DOVE February & March Special: For the rest of February & March Larry is offering a special of 9 days for the price of 7
2 - $7,800 US 4 - $9,500 US 6 - $10,850 US (family only) Caribbean terms