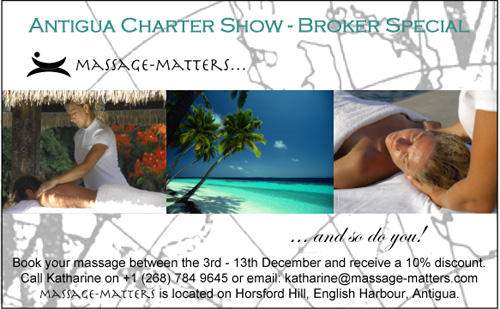 To all Antigua Charter Show Yacht Brokers...
As the Mediterranean season draws to a close and the Caribbean season is fast approaching, I'm sure you're all in need of a good massage.
Last year, I set up my business massage-matters based in Antigua and spent the year working as a massage therapist. I treated clients from my land based practice on Horsford Hill in English Harbour, visited clients in the comfort of their own home or on board their yachts whilst alongside the dock (especially busy during both Race Weeks) and went on charter with a couple of superyachts. I had a fantastic season and hope that 2009 is just as busy.
Please find attached a special '10% Discount' if you book your well deserved massage with me between the 3rd - 13th December 2008.
I have also attached a 'Nautical Massage Therapist' flyer which I will be giving to every yacht captain/owner visiting Antigua this season, please feel free to pass it on to any clients who may be interested.
And just for your information... you may see a couple of articles published in 'CrewLife' magazine and 'Dockwalk' about my transition from chef to massage therapist and there is a 'massage-matters' entry in the 2008 Superyachts Guide produced by Andrew Blatter.
I am currently in the UK on holiday heading back to Antigua on the 29th November, so it might be easier to email me until I get back.
I look forward to seeing you in Antigua in warmer climates!
With kind regards
Katharine Gilbert

massage-matters... and so do you!