Looking ahead . . .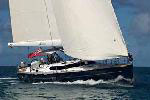 LIARA will be in the med next summer, in Spain the early part of the season, June and July, then in Croatia for August and September. And, she is VAT exempt! Need a reference for Capt. Brett and Chef/Mate Ronnie? "This has been one of the most delightful and enjoyable sailing trips. You guys have such a personable touch - it shows in everything you do. The food was fabulous! "
$18,500/ 2 – 6, plus all expenses
Still available for the Holidays!
4 Pax
BLUE MOON – avail thru 24 Dec, Grenadines
BUSTER *** until 12/28, Grenadines
IBIS - Grenadines
MYSTIQUE*** avail 12/29, Canouan
SINCERITY – St. Martin or Antigua
6 Pax
CAPERCAILLIE – thru 24 Dec BVI
DULCINEA*** – Tortola to the Grenadines
FRUITION – flexible on 10 day minimum
PALAWAN – available anywhere
8 Pax

TAZA MAS, St. Martin
12 Pax
DIONE STAR*** – until 12/26, Martinique
*** indicates a hold