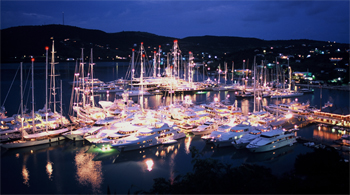 Nicholson Yachts Worldwide charter broker specialists will be attending "The Antigua Charter Yacht Show" - the largest Industry charter yacht show in the world.
With hundreds of yachts to view from 60 to 200+ feet, our brokers will familiarize themselves with old and new yachts in the charter fleet.
They'll meet the crews, both seasoned and new to the charter world, and taste the exquisite cuisines prepared by talented chefs on board these outstanding yachts.
Twelve yachts in Nicholson's charter managed fleet will be attending also.
Our brokers stay up to date with the yachts and crews to help you find
the yacht that is the best fit for you!

ARCHANGEL 70ft (22m)
HYLAS
6 guests in 3 cabins.
Falmouth Harbour Marina

AURELIUS

76ft (23.2m)


K & M Yachtbuilders
6 guests in 3 cabins.
Falmouth Harbour Marina

DESTINY 70ft (22m)
HYLAS
6 guests in 3 cabins.
Falmouth Harbour Marina

ISLAND LADY 72ft (21.9m)
Ta Chaio
6 guests in 3 cabins.

MATAU

74ft (22.6m)


Privilege
8 guests in 4 cabins.

MATELOT 80ft (24.4m)
Bruce Farr/ Southern Wind
6 In 3 Cabins

MELINKA

80ft (24.4m)


S&S Swan
6 In 3 Cabins

REE 112ft (34.1m)
VALDETTARO
10 In 5 Cabins

SEJAA 83ft (25.3m)
JFA Chantier Naval
8 In 3 Cabins

TILLY MINT

68ft (20.8m)


Discovery Yachts
7 (Family) In 3 Cabins

TIVOLI 90ft (27.4m)
Doggersbank
6 In 3 Cabins

VOO DOO

70ft (21.3m)


Hylas
4 In 2 Cabins

<< Check Yacht Availability >>