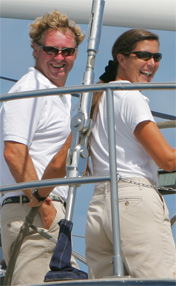 Mark recently worked with some very experienced chefs looking for new prize winning dishes. His new finds include: delicious home baked granola; a Panettone and vanilla bread and butter pudding; asparagus, garden peas, & French beans in a creamy risotto topped with grated parmesan and chopped mint; roasted fillet of grouper smeared in a sundried tomato and basil paste wrapped in Parma ham.

"We are determined to continue our reputation for award winning first class dining."

PACIFIC WAVE will participate in both the BVI show and the USVI show. They are available for Thanksgiving in the BVI but due to a charter at the end of November PACIFIC WAVE will not attend the Antigua show this year.

Look out for their full advertisement on the back cover of Charter Index Winter 2010 edition, available at the Antigua show.

PACIFIC WAVE is still available for Spring Break and Easter 2011 in the BVI.