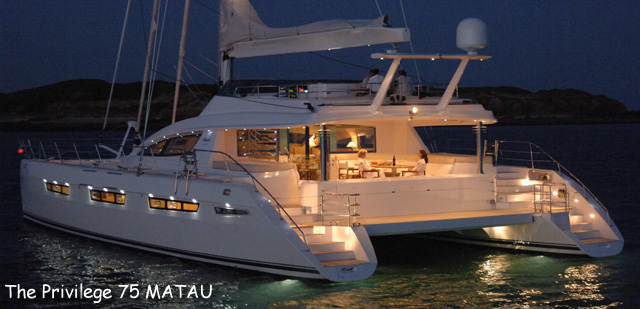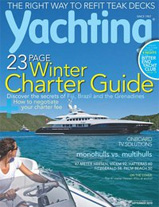 The Privilege 75 MATAU is featured in the September issue of Yachting Magazine in the "Winter Charter Special" section in an excellent article entitled "Cat's Pause" written by Kim Kavin.
Read about how MATAU offers charter luxury in the Grenadines, where the pace and view are far different from other Caribbean locations. Then photograph the

cover and send it to yachting@pongr.com to enter the Bitter End contest! Throughout the issue you will see the starburst on some of the editorial pages including the MATAU article. You can photograph and email those pages also and you will receive additional information!
Luxury Chartering in the Grenadines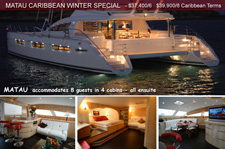 MATAU Winter 2010 - 11 SPECIAL:

$37,400/6 & $39,900/8



Inclusive except fine wines, taxes, dockage & communications
(Special rates do not apply to Christmas & New Years)


MATAU - 2006 Custom Privilege 74' Catamaran accommodates 8 guests in 4 cabins: The master cabin has a large en suite bath with Jacuzzi tub, double sinks, separate toilet & shower room. Another 3 guest cabins each have queen berth and ensuite head with stall shower.

MATAU is still available Christmas Week in the Grenadines (7 day minimum) at the following holiday rates:
US $46,750 / 6 - US$ 48,500 / 8
Inclusive except fine wines, taxes, dockage, communications


MATAU booking calendar:
Nov-07-2010 - Nov-13-2010 (Option )
St Vincent, Young Island, Caribbean - St Vincent, Young Island, Caribbean
Nov-20-2010 - Nov-27-2010 (Option )
St Maarten, West Indies, Caribbean - St Maarten, West Indies, Caribbean
Dec-28-2010 - Jan-04-2011 (Confirmed )
St Vincent, Young Island, Caribbean - St Vincent, Young Island, Caribbean
Jan-05-2011 - Jan-11-2011 (Option )
Mustique, Grenadines, Caribbean - Mustique, Grenadines, Caribbean
Feb-09-2011 - Feb-16-2011 (Option )
St Maarten, West Indies, Caribbean - St Maarten, West Indies, Caribbean
Feb-19-2011 - Feb-27-2011 (Confirmed )
British Virgin Islands, Caribbean - British Virgin Islands, Caribbean
Apr-09-2011 - Apr-16-2011 (Confirmed )
St Vincent, Young Island, Caribbean - St Vincent, Young Island, Caribbean