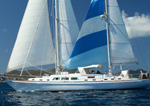 GADGET -- Chef Gisele takes 1st place in the
Chowder Competition !
GADGET – Chef extraordinaire Gisele Lannamann received 1st place in the Chowder Competition for her exquisite scallop chowder with cream shrimp reduction broth & hit of cognac. A stop by GADGET for Gisele's perfectly medium rare tenderloin bites with plum compote was a highlight of the Wednesday evening yacht hop for yachts up to 80', as was listening to Captain Ken Lannamann talk of his passion for celestial navigation which he enjoys sharing with charter guests.
GADGET hosted brokers on board for lunch on Thursday & breakfast on Friday -- the response was overwhelmingly favorable! Attending brokers emailed the following comments about the lunch: "Lunch on board was as always outstanding. ...multi course tasting menu ... gives a great over view of what she can serve and provide on board ... with all of the various plates and presentations. She is an outstanding Chef and both she and Ken are always great to spend time with." ... "Gisele's cuisine is just outstanding …mega yacht dining on a beautiful Hinckley 64'!" ... "In a word -- outstanding!" ...and "Breakfast was phenomenal" ...
More comments about GADGET from brokers: "… yacht was nice and clean … looked excellent ... love the colors … crew are experienced and professional … Ken and Giselle are so great … wouldn't hesitate to put my best clients with them… with GADGET it's all about this fabulous crew… No one better … very impressed with the crew … Ken and Giselle are a fantastic team and her cooking is out of this world. I never hesitate to send them out to clients … clam chowder was amazing …"