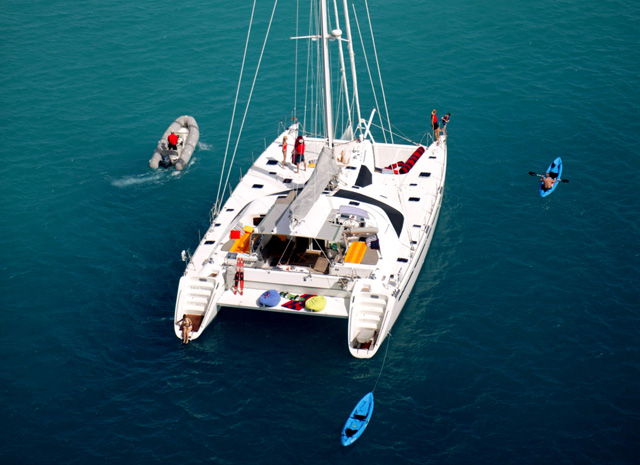 TRUE NORTH's schedule for the remainder of this Winter and Summer of 2010

THROUGH MAY, 2010 - BVI'S
JUNE/JULY - ST MARTIN/ST BARTH'S/ANTIGUA OR SOUTH (Hurricane Addendum Required)
THROUGH AUGUST - AVAILABLE IN THE GRENADINES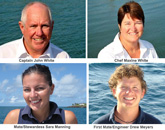 Captain Whitey, Chef Maxine and crew look forward to hearing from you for your future bookings. Don't forget TRUE NORTH is offering DIVING.
No charge for certified divers
Diving on TRUE NORTH is available for certified divers at no additional charge. There is a charge for scuba instruction at $250 for referral open water course and $150 for a resort course. TRUE NORTH has 8 sets of regulators and gear, including 14 tanks and a dive compressor.
TRUE NORTH can accommodate 8 guests in 4 cabins.
Four en suite cabins. The master has a centerline king and spacious bath with separate shower.
Three queen guest cabins have private en suite baths with enclosed showers.
TRUE NORTH is fully air conditioned through out. Crew has a separate companionway, heads and shower.
Winter 2009 Caribbean
6 - 29,500 US$ 8 - 31,500 US$
Excluding fine-wine, gov. licenses, fees, taxes, communications, dockage

Summer 2010 Caribbean
6 - 27,000 US$ 8 - 29,500 US$
Excluding fine-wine, gov. licenses, fees, taxes, communications, dockage

Winter 2010 Caribbean
6 - 29,500 US$ 8 - 31,500 US$
Excluding fine-wine, gov. licenses, fees, taxes, communications, dockage
Christmas 2010
6 - 33,925 US$ 8 - 36,225 US$
Excluding fine-wine, gov. licenses, fees, taxes, communications, dockage