It is Still Possible
to Book a Yacht for New Years...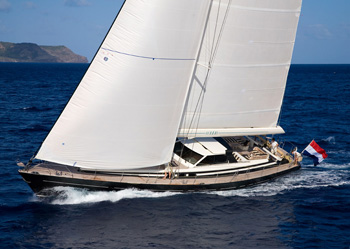 ICARUS can accommodate 6 guests in 3 cabins.

ICARUS is a 27 meter performance sailing yacht designed by Doug Peterson and built by Jongert in 2007. She offers sufficient space and volume for a luxurious interior layout and also her sleek design makes her a great sailing performance yacht.

ICARUS features a deck saloon that has a roof that completely slides open and a cockpit settees that transform into sunbathing lounges. The interior is styled in whitewashed teak with brushed stainless steel detailing, creating a light, modern atmosphere.

Winter 2009-10 Caribbean
2 - 47000 US$ 4 - 48500 US$ 6 - 50000 US$
(ex bar / gov. lic / fees/tax / comm / dock)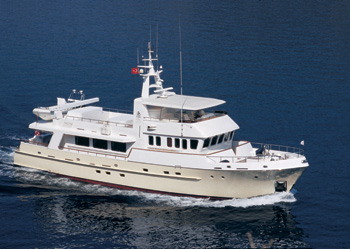 TIVOLI can accommodate 6 guests in 3 cabins.

TIVOLI 90-foot luxury Doggersbank offshore expedition vessel

On three deck levels, you 'll find ample places for stylish entertaining, and intimate spaces for quiet diversion. A spiral staircase leads gracefully from one to another, while rich mahogany raised paneling and distinctive decor create an atmosphere of subtle sophistication. The saloon, with its big couches, Bose entertainment center, bar, and wine cooler, is especially welcoming.
Winter 2009-10 Caribbean
6 - 35000 US$ +all exp

Glass doors lead from here to the covered cockpit,where a settee and easy chairs surround a table just right for breakfast or lunch alfresco.
CALLIOPE can accommodate 8 guests in 4 cabins with a minimum age of 6

The Calliope's wide flush deck and spacious cockpit offer plenty of room for relaxing and entertaining while sailing or at anchor.

Her tasteful interior with large saloon, library and four comfortable staterooms easily accommodate up to eight guests.

Winter 2009-10 Caribbean
4 - 7000 US$ 6 - 8000 US$ 8 - 9000 US$
(ex bar / gov lic / fees /tax / comm / dock)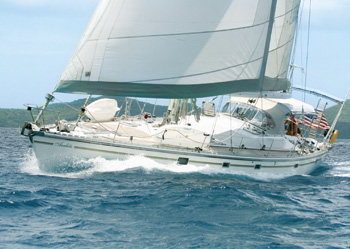 ANAHITA can accommodate 6 guests in 3 cabins.

Anahita is a beautiful Dynamique 62 designed by Phillipe Briand to combine luxury and comfort whilst still capable of high speed cruising. The uncluttered teak sun decks and the aft raised bathing platform with fresh water shower give plenty of space for relaxing in the sun.

If you wish to be more active, the boat is equipped with snorkeling and fishing equipment, windsurfer and water-skis. The wide open cockpit provides shade under the bimini for you to enjoy cold drinks, lunch or dinner "al fresco" with the cooling sea breeze in your hair.

Below decks the yacht is quite spacious. The airy salon is furnished with a large dining table that seats up to eight. A cocktail area, a 30 – inch high definition TV, and the hi-fi equipment are all close at hand.

2 - 8500 US$ 4 - 10000 US$ 6 - 11500 US$
(ex bar / gov lic /fees / tax / comm / dock)

please don't print this e-mail unless you really need to.