We have started making our way south after a very busy summer in the shipyard in New England making substantial upgrades to DULCINEA. Highlights from our busy yard period include the following work:
The engine removed and completely stripped down and rebuilt by Mac Boring of Yanmar -- so the engine now runs as new! t is much smoother and quieter also.
DULCINEA has been fitted with a new state-of-the-art Varifold 4-blade folding propeller and also a new transmission. We can now motor very comfortably at ten knots having eliminated vibration higher rpm's. In addition we have noticed a significant increase in DULCINEA's sailing performance as the new propeller is very streamlined when folded, compared to a traditional fixed prop.
Other upgrades and improvements include:
New whisper quiet Cummins Onan 11.5kw generator
New upgraded saloon air-conditioning
Brand new Doyle Stratis Genoa
We are looking forward to a busy Caribbean season and offering guests even more comfort from the above upgrades during charters on board DULCINEA. We welcome your charter inquiries and look forward to showing off the new and improved DULCINEA at the Antigua Charter Show.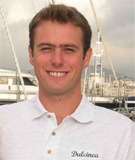 With kind regards,
Captain Jon Keen
S/Y DUNCINEA