ASHLANA - 53' Little Harbor Sloop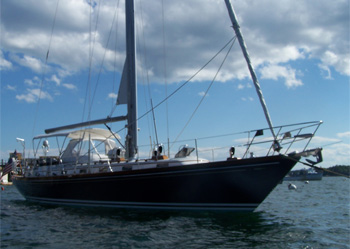 Some exciting news to share -- Captain Tom Hampson & Chef / Mate Christie MacConnell became engaged on Christmas Eve! To celebrate Tom & Christie are offering an ASHLANA Valentines Special -- a five day two person charter at the price of $7,800 for 5-day charters taking place during the month of February.
ASHLANA is offering reduced winter 2009 rates of $10,700/2, $11,900/4 – with the added bonus of 8 days for the price of 7, both effective for the remainder of the Winter 2009 Caribbean season.
Rate terms are: inclusive except bar, local cruising taxes and /or fees, dockage and communications.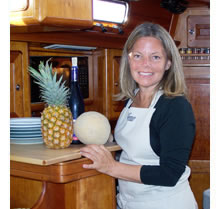 From the galley of Chef Christie MacConnell, sailing yacht
ASHLANA
Christie says that she never fails to get rave reviews from this easy, but elegant confection!
Chocolate Chip Macaroons
1/8 tsp salt
2 egg whites
1/2 cup sugar
1 tsp. pure vanilla extract
1/4 cup flour
3 cups of shredded coconut
½ cup of semi-sweet chocolate chips
Combine all ingredients except the egg whites. Whip egg whites until stiff peaks form and gently fold into the combined ingredients. Drop by rounded tablespoons onto a lightly greased cookie sheet or parchment paper and bake at 300 degrees F for 15-20 minutes or until al light golden brown. Enjoy!
P please don't print this e-mail unless you really need to.