As of May 1, 2008 new United States banking laws now require that all incoming wires include the following information for identification purposes:
The complete name & address of the sender
The complete name and address of the sending bank
Wire transfers without this information will not be able to be accepted by US banks and will be returned to the sender.
Please help us to prevent unnecessary delays and expense in receiving charter funds by providing this information on all wires sent to the Nicholson USD & Euro accounts.
Let's work together to keep the process quick and simple!
Thank you!
Karen, Joanne, Smidgie & Gigi
Nicholson Charter Management Team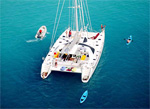 True North
65' Privilege Catamaran
Available for summer 2008 charters in New England

75' Privilege Catamaran available for summer 2008 charters in Croatia