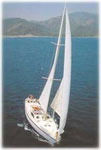 What is the best way to get to the GRENADINES?
Captain John Nicholson of MAKAYABELLA passes along this very helpful information for the easiest way to get your clients to the Grenadines.
1.) Fly to Barbados. There are many flights from the UK and USA.
2.) Charter a private plane for the 40 minute flight to any of the Grenadine Islands. A plane with 6 or 8 seats is approximately US$1,200 to $1,300 one way. Cost for a party of 6 is comparable to commercial flights.
Why is this the best way?
1. No connection worries. The chartered plane will wait if the international flight is delayed.
2. Go straight through a transit lounge and on to the plane within 30 minutes of arriving.
3. More flexible ports mean more time on the islands guests want to see . EX: Start in Bequia and return from Union.
4. Customs and immigration are far quicker and easier than St. Vincent.
5. For departure, check in 30 minutes before take-off – NOT 2 HOURS!
Note: Guests must travel with carry-on luggage only. Makayabella will provide all the toiletry items that are no longer allowed on planes - just add it to the preferences.
Web sites for charter flights:
www.grenadineairways.com
www.svair.com
www.mustique.com