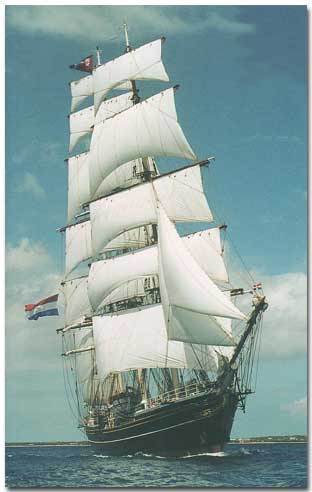 Stad Amsterdam
250' Luxury Clipper Ship
Live your dream of sailing across the ocean!
29 Day Atlantic Crossing on the Stad Amsterdam
250' Clipper ship launched in 2000
Depart Ft. Lauderdale, March 28, 2007 - Arrive April 27 in Lisbon with stops in Bermuda and the Azores (Horta)
If you think making a transatlantic crossing means a 45' boat and hot-bunking (coming off watch and crawling into a berth someone has just left to go stand their watch) or sharing the solitude of the open sea with 800 other passengers, have we got an offer for you!
Join the 30 professional crew members on this beautiful, three-masted square rigger that can reach 17 knots under sail - 29 sails, actually. Working on one of three watches, you will be actively involved with setting the sails, taking the helm and maybe even helping in the galley! Fourteen air-conditioned luxury passenger suites each have two twin bunks (plus two Pullman berths), a writing desk and a very large bathroom.
After dinner, enjoy evening presentations in the Long Room, including the captain's "recap of the day and position report", murder mysteries and the camaraderie of sailors from many different countries and walks of life.
Price per person based on:
Triple occupancy per cabin 2,395 Euro
Double occupancy 2,995 Euro
50% supplement (in addition to the double rate) for single occupancy - 4,492 Euro
Three meals a day; unlimited coffee, tea, water and fresh fruit; midmorning and afternoon breaks with snacks; and harbor/port dues are included.
Additional costs are: flights, additional drinks on board, other personal expenses.
"A great part of my unique experience was thanks to the crew. I wondered where they had found such friendly, enchanting, and helpful people".