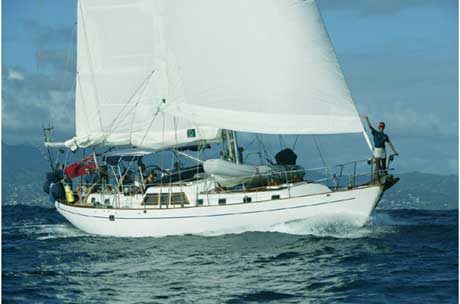 Two weeks available March 10th to the 26th in the Grenadines, open calendar after April 14th drop off in St. Vincent.
New brochures are in!
A truly successful skipper/owner charter yacht?
Captain Larry Tyler writes, "We were on charter over Christmas and the New Year in St Barth's, one of the most exciting places to be at midnight on New Year's Eve. The port of Gustavia and the outer harbour were packed with just about every mega yacht you can imagine - plus the mere mortals like us on The Dove. Terrific atmosphere ending with a wonderful fire work display over the old fort and then the sound of hundreds of ship horns at the strike of midnight!"
"So far this year 12 of the 14 weeks booked are repeat guests and two of those have been coming back since the first year The Dove and I started chartering in1991. Cindy James from Trinidad is my hostess this season, her third year on The Dove. All our guests love her "Trini" smile, her rum punches and the breakfasts and lunches she prepares. I still enjoy more than ever preparing the main meal at dinner time. Every year I come back from France and Italy with some new ideas for a recipe I have tried at a restaurant, so it is great fun to see our guests enjoy the food so much."
Two air-conditioned master cabins with queen size beds & ensuite heads & showers.
One of the many reasons charterers rebook with Larry is the excellent condition of The Dove and the constant improvements he makes to enhance his guests' comfort.
Additions and upgrades on The Dove for the 2007 season include:
New dinghy and a new 15hp Yamaha outboard
(plus a 25hp motor for water skiing)
Two silent wind generators to provide quiet electricity
New shell motif blue & white sheets & towels from the Paris firm of Carré Blanc
New teak water carafe and crystal glasses in all cabins
New adjustable cockpit seating with good back support & soft cushions
New 22" flat screen HD-LCD TV on an adjustable arm in the master cabin
with a separate DVD player. More than 300 DVD's.
iPod with 4,603 tracks to play, connected to the stereo system
New 34" flat screen HD-LCD TV in the salon with Bose acoustic headphones so one guest can watch a movie without disturbing others
All new bar glasses, a wonderful olive-wood salad bowl, hand carried from Tuscany back to the Caribbean
New sail covers
Two new VHF radios
Winter 2007 rates: $7,400/2 $8,750/4 – inclusive x bar, taxes, dockage & communications