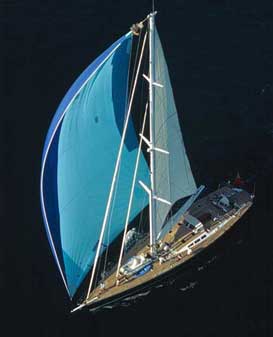 KALIKOBASS II is offering a "winter special" of 10% off the winter rates for charters in the period 20 January - 16 Feb and 4 - 30 March.
10% OFF PRIME WEEKS ON KALIKOBASS II
With her freshly sanded decks looking like new, and a snappy new jib, Kalikobass II is in Antigua and ready for charter at a moment's notice. The 10% discount applies to charters now through February 16 and March 4 to 30.
Captain Ross Murray, Chef Henrietta Crossland, Stewardess Stephanie Newstead and Mate Morné Otto are "the best crew I've had in twenty years of owning charter yachts," the owner reports. And, remember the incredibly flexible accommodations:
Four en suite cabins can be configured as four identical kings or four cabins with twin singles. Remove the partition dividing the two forward cabins to make one cabin with two full baths, a centerline king and two singles or settees. Each cabin has a complete entertainment center including DVD, VCR, TV, radio, and tape player plus a refrigerator, private safe, and individually controlled air conditioning.
Discounted rates: $40,500/6 $42,750/8 plus all expenses
_______________________