"A beautiful boat - everything we hoped for - comfortable, classic, perfectly suited to our family."

A 'pleasure cruise' is only pleasurable when, yes, the boat is lovely, but mostly when the people on board have an energy, a chemistry that flows naturally without effort, infused with fun. Gemma, you are a superb cook. Your meals were fresh and refreshing, healthy and delicious. I really liked your listening style - I would mention something casually and with enthusiasm and in short order it would appear on the menu. You aimed to please and you did.

I would also say that you, Gemma, have a helpful, appealing style with the children and were especially delightful when our 13 year old tried waterskiing for her first time. Although she didn't stay up for long, you made her feel empowered, not defeated. Next time!

Alex, thank you for your clear-headed, forthright expertise. You had everyone's respect, including my 'much sailed' husband and an otherwise blasť 16 year old! Your Ozzie (Aussie) charm and natural courtesy, coupled with serious sailing skills and constant carefulness, made all aboard feel relaxed and secure. Julia was a very kind, respectful and peaceful presence, special thanks to Julia.

Thank you for a lovely holiday. Our time aboard Amneris is a perfect start to the New Year. (December 28 to January 3, Antigua - Antigua)

Three en suite cabins: Aft, the full width master offers two three quarter berths, a dressing table/desk, many built-ins and two three-quarter berths with a settee between them. The master bath has a marble vanity & a stall shower with seat. There are two upper/lower single berth cabins with generous storage. The huge cockpit, with high coamings and latching gates, is secure for small children, and there is full safety netting for the lifelines.

$14,900/2 $15,900/4 $16,900/6 - inclusive x bar, taxes, dockage & communications.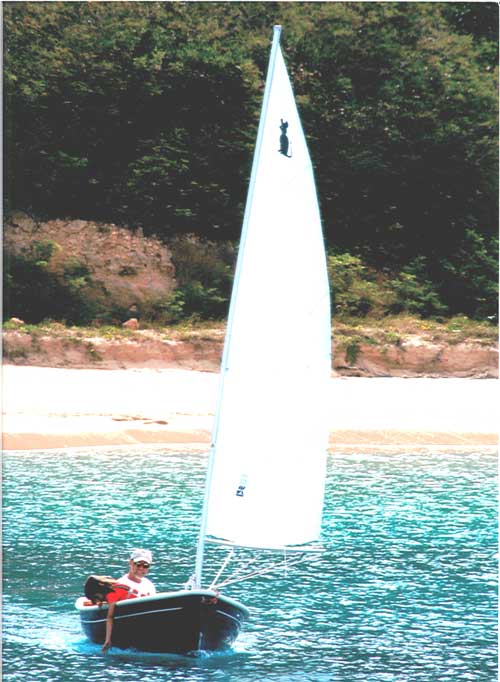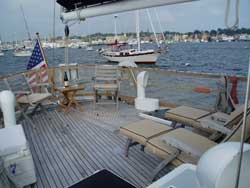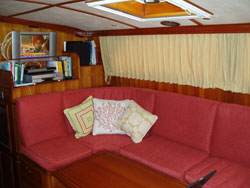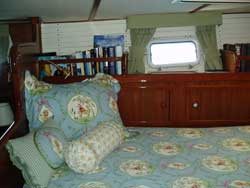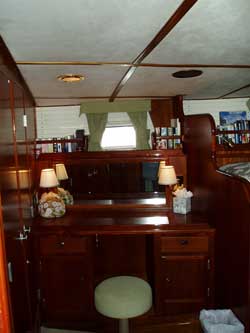 ____________________
10' Trinka sailing Dinghy & Rowing