Introducing Captain Ross Murray . . .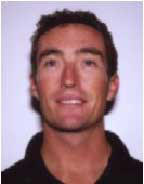 Wherever your clients are dreaming of cruising, chances are Ross has sailed there. From September 2003 to July 2006 he captained a Swan during a three year circumnavigation starting in Newport, RI and finishing in Croatia via the Panama and Suez Canals, cruising in the Pacific Islands, New Zealand, Indonesia, Thailand, India and the Red Sea. He has charter experience in the Med and the Caribbean on sailing yachts up to 130 feet including several Swans and the classic schooners Aschanti IV and Queen Nefertiti. He holds a Class IV License and MCA Certificate of Competence with Command Endorsement.
Ross has occasionally taken a break from sailing. He worked on a game ranch in Zimbabwe and for British Aerospace. He is a sports enthusiast who skis, plays squash, tennis and rugby. Ross has a private pilot's license and enjoys wood carving.
With Captain Murray heading the crew, Kalikobass II's owner couldn't be happier. He praises Henny (Henrietta) Crossland and Stephanie Newstead as the best chef and stewardess ever in more than 25 years of owning yachts. Henny joined the yacht in June 2006. Stephanie and first mate Morné Otto, who have crewed together for three years, have been onboard Kalikobass II for over a year. Ross, Henny and Stephanie are English; Morné is South African. The owner of Kalikobass II knows that it takes more than a beautiful yacht to be successful in chartering and credits his crew's positive attitude and professionalism for the high percentage of repeat bookings.