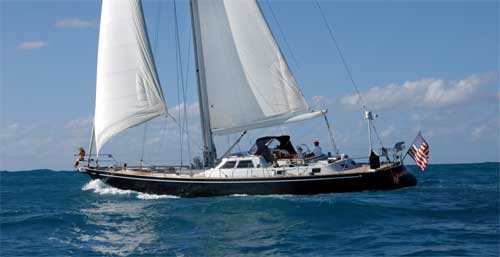 AURORA
67' Belliure sloop,
is available for charter during the ICC Cricket World Cup 2007 in the West Indies.
Recommended itineraries are:
| | | |
| --- | --- | --- |
| March 3-10 | St. Vincent: | Warm-ups with Australia, Bermuda, England & Pakistan |
| March 13-25 | St. Lucia: | Group Stage with Canada, England, Kenya & New Zealand |
| March 26-April 9 | Antigua | Super 8 Series |
| April 10-22 | Barbados | Super 8 Series |
| April 24-May 1 | St Lucia/Barbados | Semi-Final and Final |
Your British hosts on AURORA are Captain David Mackwood and his wife, Cordon Bleu Chef Bridget.David is an avid cricket player and fan who started playing age at 5 with a hard ball and soft hat. He kept wicket for Bembridge School 1st X1 and then for the Richmond Cricket Club (founded 1767 in Surry, England) for 13 years. Richmond is a smart cricket club not far from London that is frequently top or near top of the Middlesex League. David also kept wicket for Penton Mewsey and Nether Wallop - village sides in Hampshire in the south of England. While in the Caribbean he has followed the West Indies play and supported the cricket youth in Antigua. By request, Bridget will create a menu of authentic English specialities to enhance the total experience.
Two double en suite cabins. The forward cabin has an optional Pullman berth.
$ 13,000/2 $14,000/4 - Inclusive except special requests, taxes, dockage, communication