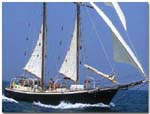 BONNIE LYNN, 72' schooner, gives each charter the personal touch. According to guests who booked a one day charter for a family celebration, "We could not in any way have had a better day for our 50th anniversary!! Bonnie Lynn is a wonderful boat, plenty of room and a comfortable sail."

Another guest who sailed for a week in Maine said Bonnie's cooking and presentation were "very, very, very, very good" and "everything was great." From a fellow described as a man of few words, this is high praise indeed!

AVAILABLE FOR A DAY SAIL - up to 24 passengers

August 18 in Rockland
or
August 20 in North East Harbor

Options include: 10am to 4pm with lunch - $2,400

9am to 9pm, lunch and dinner - $3,000

Rates given are approximate. Call for rates for your group.

Three cabins: The starboard guest cabin has a double, the port guest cabin double can convert to a single with a day couch. The forward cabin has a large single starboard, a single lower to port and a small double upper to port. There are two guest heads and showers.

$9,000/2 $10,000/4 $11,000/6 - Inclusive x bar, dockage, taxes, and communications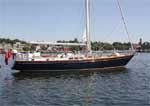 CONUNDRUM, Little Harbor 62, has received her MARAD waiver and is available in September, using a commercial contract. Fresh from a complete refit, her classically nautical interior is done in shades of blue and white. Three en suite cabins: aft double; one cabin with twin lower singles and one cabin with upper/lower singles.

Summer rates: $10,000/2 $12,000/4 $14,000/6 - plus all.

Winter rates: $10,000/2 $12,000/4 $14,000/6 - Caribbean terms, inclusive x bar, taxes, dockage and communication. Holidays: $11,250/2 $13,500/4 $16,000/6.