Two sailing yachts for the price of one!
Free sailing lessons!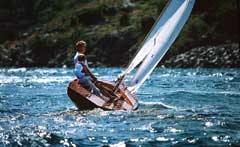 SINCERITY, 95' Baglietto ketch, offers a Grimstead Jolle sailboat named Norwegian Wood, at no extra charge. Perfect for teaching children to sail, she is 18 feet – small enough for two children to sail yet big enough for an adult or two.
Sincerity's captain, Trevor Linscott is a dedicated sailing instructor.
Norwegian Wood has a full deck, a permanent keel and rudder, and a main, jib and spinnaker. She is varnished inside and out and in first class condition. (Depending on charter location, a delivery fee may apply.)
______________________