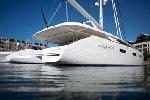 Calling all cricket fans!
World Cup Cricket's Super Eight Series will be played in Antigua, March 27 to April 9, 2007. AKASHA is keen to have a charter for this exciting event and already has a hold for the semi-finals. Holiday rates apply: $45,750/6 $46,500/8 $47,250/10 – inclusive x taxes, dockage, communications, special requests and scuba diving.
AKASHA's crew, Captain Brett Williams, Chef Ronnie Chamberlain, Mate Dylan and Stewardess Mariette got rave reviews from their most recent guests in the BVI, "What a fantastic week. We greatly appreciated your efforts to make every detail of our trip enjoyable. We were truly spoiled."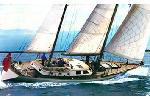 WILD TIGRIS spent the winter in La Rochelle, undergoing an extensive refit including all new upholstery and soft furnishings. At present she is in Naples, available for charter starting June 29. She plans to base in the south of Italy, but is willing to go to other areas of the Med as required. With WILD TIGRIS looking like new, the experienced team of Captain Estelle Blet, Chef Benoit and Mate Thibaut are ready for another busy season of treating your clients to superb sailing, great food and good fun. US $17,000/2 $18,000/4 $19,000/6 $20,000/8 (families only) plus all. Four en suite cabins: master with queen and one single berths, queen cabin and two upper/lower singles cabins. A photo shoot for the new brochure and website is scheduled next week.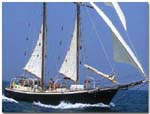 BONNIE LYNN is available for charter until Columbus Day. She will be staying in Newport this winter for a refit. Six guests in three cabins. $9,000/2 $10,000/4 $11,000/6 – inclusive x bar, taxes, dockage, communications.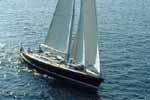 KALIKOBASS II is in Antibes doing lots of preventative maintenance and improvements to be ready for a trouble-free charter season. Captain James Benson is pleased to announce the new chef, Herietta (Henny) Crosland. She is, English, Cordon Blue trained and has cooked professionally for 10 years on both sail and motor yachts. Henny's profile and dinner menu are on our website. We're still trying to choose a few samplings from her enticing lunch menu – everything sounds so delicious it's hard to decide what to post.

A few prime summer dates are still open! Late June to July 5, Nice. Sept 3 – 9, Sardinia. Sept 18 – 3 October. USD $50,000 plus all. KALIKOBASS II is thinking of chartering in Turkey Summer 2007. Any comments? We'd love to have your input.