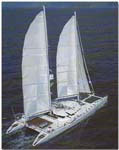 DOUCE FRANCE, 138' catamaran. Enthusiastic praise from April guests:

"I've chartered quite a few times now. This was by far and away the best crew I have ever been with. (In fact if you could be guaranteed a crew like this I'd be tempted to buy a boat!). I can't fault anything. They were excellent. Fantastically friendly and helpful. But never 'in your face.' A great boat and a really excellent crew. I can't praise them high enough." $85,000/12 plus all, Summer 2006, South Pacific & winter 2006-07 New Zealand.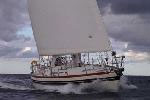 MYSTIQUE, Tayana 55 recent charter guest comments: "James and Katherine were outstanding. They worked so well together. They did so much above and beyond that we can't cover everything. Jan's glasses broke, and James was able to fix them with fishing line. Katherine spoiled us from wanting to dine anywhere else. Her preparation and presentation was the best. She could segue from cooking to deckhand to singing without missing a beat." Forward and aft centerline double staterooms. Call for summer specials and rates. Caribbean.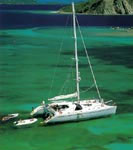 ANGEL GLOW, as you know, has her own charter contract. PLEASE be sure to contact us to be sure you have the up to date version before submitting any ANGEL GLOW contracts to your clients.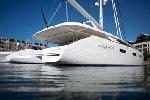 SUMMER UPDATES AND RATE CHANGE
Effective immediately, AKASHA, has changed to a year round rate structure: Summer 2006 & Winter 2006-07: $39,500/6 $40,250/8 $40,950/10 – inclusive except special requests (any specially requested high end wines, Champagnes and /or liquors) & scuba diving; Caribbean.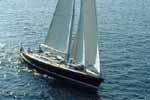 KALIKOBASS II, 104' sloop, is available in June out of Antibes - please inquire for dates as Captain James Benson will continue routine maintenance until a charter confirms. As you know, KALIKOBASS II has very flexible accommodations: Four identical cabins convert from kings to twin singles. The two forward cabins convert to one full width stateroom with several sleeping configurations and two full baths. $50,000 plus all.
---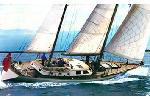 WILD TIGRIS, Swan 76, is fresh from a six month refit and looking fantastic! She is booked August 4 – 19 in Sicily, July is wide open. $17,000/2 $18,000/4 $19,000/6 $20,000/8 plus all. Four en suite cabins: aft master has a queen and a single, two cabins with u/l singles, one queen cabin. Captain Estelle Blet and crew are eager to entertain your clients!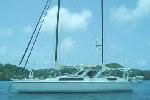 TZIGANE IX, the upgrades continue on this lovely 58' trimaran with new upholstery & carpeting in the main salon, a new refrigerator, windlass, anchor & chain. Capitalizing on the privacy afforded by TZIGANE's layout, owners Steeve and Ingrid St. Covat excel at honeymoon charters! Newlyweds enjoy romantic candlelight dinners served in their own private cockpit. Their stateroom is completely separated from the other cabins and the entire deck space and trampolines are theirs for relaxing and sunbathing. Multi=lingual crew speak fluent English, French, German and Hungarian.

Special honeymoon rate: $1,080 per day (2 pax) includes 'Welcome Aboard' bottle of champagne, all meals - plus afternoon tea; bar and one bottle of French wine with dinner; local taxes and mooring fees; free transport from/to Grenada airports. Valid year round except Christmas and New Year.