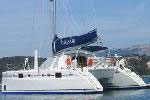 ALIDADE, 58' catamaran. Accommodations for 8 in 4 en suite cabins: King berths in both aft cabins, one converts to twin singles. Forward cabins have 2m X 1.6m double berths. Charming French crew, Captain Daniel Segalowicz and Chef Mathias Perier, both speak fluent English.

$12,320/2 $13,100/4 $13,900/6 $14,700/8 - Inclusive except bar, taxes, dock, & communications

Booked: 04/12 – 04/19 St. Lucia – Union
05/24 – 05/28 Tortola – Tortola

Available all summer in the Caribbean.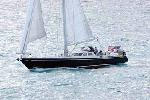 BANDERA, 57' Hinckley yawl. Four guests: master cabin forward with double to port & single pullman has a private head and shower, guest cabin has upper/lower singles and shares the second head and shower with the crew. Captain Dave Abramski and Chef Jennifer Goodson have three years experience as a charter team and are doing a fantastic job. $10,000/2 $12,000/4 - inclusive except bar, taxes, dockage and communications.

Booked: 02/02 – 02/09 Grenada – Grenada
03/27 – 04/03 St. Vincent – St. Vincent

Chartering in New England this summer.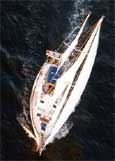 BLUE MOON, 67' ketch. Accommodates four guests in a spacious queen en suite aft cabin with bath tub. Double guest cabin forward of salon shares head and shower with crew. Extra single berth available for family booking. Having been a charterer himself, Captain Jonathon Davis often knows what charter guests want before they do. Chef Kim Hogan grew up sailing and has years of restaurant experience.

$7,000/2 $8,000/4 - Inclusive except bar, taxes, dockage and communications.

Open calendar. Available in New England this summer.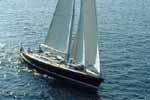 KALIKOBASS II, 104' sloop. The most versatile accommodations in yachts her size. Eight guests have a choice of 4 cabins which convert from kings to twin singles. Plus, two forward cabins open to one large suite with two heads/showers and several different bed configurations. Captain James Benson's crew of four includes Chef Joost Dierickx, three-time winner in the Antigua Charter Yacht chef competition. $45,000/6 $47,500/8 - plus all expenses. Very keen to book for Antigua Sailing Week , 26 April to 6 May.

SPECIAL OFFER: 10% DISCOUNT for bookings between March 6 and April 21.

Booked: 02/18 –03/04 Antigua – St. Thomas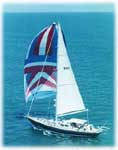 PALAWAN, 75' Little Harbor sloop. Accommodations for six: the aft cabin offers 2 large single berths w/2 separate heads, one with shower, the other with bathtub; the en suite port cabin has 2 twins and the starboard cabin has upper/lower singles with private head/shower. New crew Chris and Sarah Renner love their new command!

$17,000/2 $17,500/4 $18,500/6 - Inclusive x bar & local taxes

Booked: 02/15 – 02/22 Tortola – Tortola
02/28 – 03/07 Tortola – Tortola

_______________________________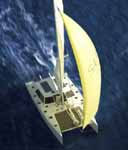 SAFARI, 62' Gunboat catamaran. Six guests in 3 large private cabins with queen berths. One cabin also has a single berth and another has a child's berth. Two guest heads/showers plus a bathtub in a separate bathing room.

NEW OWNER! NEW CREW! Please welcome Captain Andy Key and Chef Mellissa Van Assen. These congenial and capable South Africans came to professional yachting three years ago after a three year circumnavigation on their own sail boat. Their 'mission statement' says it all. "The essence of Safari is to have FUN. And whatever FUN is to you, Andy and I are here as your hosts to help you live your dream holiday."

$15,500/2 $16,000/4 $16,500/6 - Inclusive except bar, local taxes, dockage, communication. Leaving for the Med in May.

Booked: 02/11 – 02/18 St. Vincent – Grenada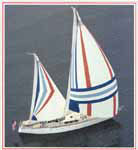 SEA ANGEL, 88' S&S ketch. Aft double master with two heads and showers, two en suite twin lower single guest cabins. Traditional elegance and modern comfort. A former Royal Marine with more than ten year's professional yachting experience, Captain Patrick Overington has extensive knowledge of all major chartering locations and itineraries.

$23,500/4 $25,500/6 - Inclusive except bar, dockage, communications and local taxes. Includes fuel for 4 hrs motoring per day. Easter Holidays + 10% on normal rates.

Booked: 03/04 - 03/11 Tortola – Tortola

SPECIAL OFFER: 10% off 7 day charters, 15% off for 10 days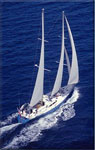 TABOO, 81' schooner with five roomy queen sized staterooms, all en suite. Two cabins have an additional upper bunk. Each stateroom is fitted with TV/DVD, telephone, intercom, FM radio & CD player, hair dryers, fans, A/C. David and Miranda Hartstone plus two crew have one of the highest repeat booking rates in the business. "A fabulous week aboard TABOO. Great sailing, tremendous food, magnificent all the way around! Thank you so much for making this such a successful week for our mother's 80th birthday cruise."

$19,500/2 $19,500/4 $21,500/6 $23,500/8 $25,500/9 or 10 Inclusive except bar, local taxes, dockage, communication.

Booked: 03/11 – 03/18 Tortola - Tortola
03/25 – 04/04 St. Martin – St. Martin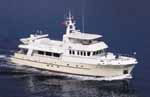 TIVOLI, 90' expedition motoryacht. Master stateroom w/queen size bed, his & hers marble bathrooms, one with steam shower plus whirlpool. Two en suite twin singles staterooms with enclosed marble showers. Captain Kevin French and Chef Rebecca Popenoe exceed guest expectations at every turn. Rebecca's menu is tops

$29,500/2 $29,500/4 $29,500/6 - plus all expenses

Open now through

_____________________________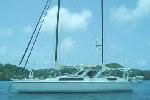 TZIGANE, 58' catamaran. Charming beach cottage ambiance with four identical en suite queen cabins. New carpeting in main salon, new upholstery in the cabins, new teak table & new cushions in the dining cockpit, 2005.

Happy guests from Milan report, "We found you at the last minute, after our sailing cruise . . .was cancelled. To bring up our depressed spirit(s) was a very challenging job. A job that Ingrid and Steeve did very well. We all enjoyed really very much this vacation. Twelve days of full color, wonderful food, exciting long drinks, and discussions with Captain Steeve about where to go for mooring. We had a dancing night, with a lot of fun."

Attractively priced at $5,850/2 $7,250/4 $8,990/6 $10,990/8 - Inclusive except bar, local taxes, dockage, communication.

Open calendar.