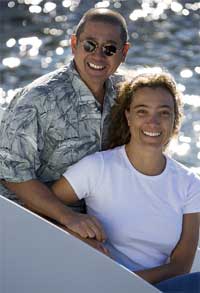 MEET SAFARI's NEW CREW!
One of our most popular yachts, this sleek 62' Gunboat catamaran zips across the water like a speed skater. Comfortable accommodations for six guests in 3 large private cabins with queen berths. One cabin also has a single berth and one cabin has a child's berth. Possibly the only catamaran of her size with a private bathing room with a full-size tub. Check out Melissa's menu on our web site, but have a snack handy. Reading it will make you ravenous!
$15,500/2 $16,000/4 $16,500/6 - Inclusive except bar, local taxes, dockage, communication.
CURRENT BOOKINGS

Beginning Date

End Date

Start Port

End Port

2/11/2006

2/18/2006

SVD

GND

5/15/2006

6/15/2006

EIS

PMI