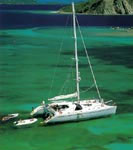 ANGEL GLOW, 65' catamaran, has her own contract and also accepts the new CPA contract from CYBA. One king and four double en suite cabins. $
25,000/6
$
27,500/8
$
29,500/10
- inclusive except special requests, communications, and scuba.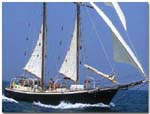 BONNIE LYNN, 72' classic schooner, is available the last week of April in Tortola. One dbl/single cabin,

2 double cabins

,

two heads/showers, three crew.

$9,000/2

$

10,000/4

$

11,000/6.

Caribbean terms:

Inclusive except bar, local taxes, dockage & communication. Summer 2006, available in New England.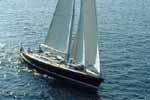 KALIKOBASS II, 104' sloop, is offering a 10% discount for charters from:
22 January to 16 February, Antigua – Antigua
6 March to 15 April, dropping off in St. Thomas 4 March
Four en suite staterooms convert from two twin beds to one king size bed. The two forward staterooms have a partition that can be removed to make a large "master cabin" with centerline king bed. Discounted rates: $44,000/6 $ 46,500/8 plus all expenses.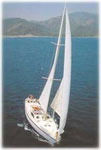 MAKAYABELLA, a 65' sloop, offers 4 en suite cabins: two doubles and two upper/lower singles. Bright and airy salon, spacious lounging cockpit with seating for ten. $8,000/2 $9,500/4 $11,000/6 $12,500/8 – Caribbean terms: Inclusive except bar, local taxes, dockage, communications.
Three cheers and three perfect scores – 10 points out of 10 - for Makayabella's crew!
"We were welcomed with open arms. They made our Christmas special with extra added touches which were completely unexpected. John and Sue exceeded our expectations and did a wonderful job keeping the kids entertained. Sue met all our dietary needs and requests and we really appreciated the healthy choices she offered. It wasn't easy keeping up with Phillip's appetite, but she stayed one step ahead of him."
"John made sure we had meetings to discuss the plan for the day and the next day. He offered wonderful options for . . . everyone's needs and we all kept busy doing what we love to do. How soon can we go again?" Christmas 2005.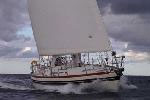 MYSTIQUE, 55' sloop, has a week available for serious sailors from March 4 to March 11, St. Vincent to St. Martin. $6,900/2 $8,900/4 - inclusive except bar, local taxes, dockage, communication - Diving available inquire. Beautiful double staterooms forward and aft.