ZINGARO AVAILABLE FOR NEW YEAR'S!
Available 30th December to 7 January, St. Martin – St. Martin
The very spacious queen master suite offers a settee and vanity. Two identical en suite guest cabins have twin lower singles – starboard cabin converts to a queen. For family charters only, the exercise room can be converted to upper/lower children's berths. $46, 800 plus all.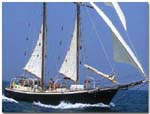 BONNIE LYNN, 72' schooner, is wide open in January and from Feb. 26th through March 14th and then all of April. Following the Newport Charter Show in June she will head up to Maine. Accommodations for 6 in two double cabins, one of which converts to a single plus day couch. Forward cabin has a single that pulls out to a large double plus upper/lower singles. Same rates and terms year round.
$ 9,000/2 $10,000/4 $11,000/6 - Caribbean terms.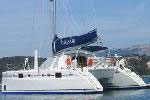 ALIDADE, 58' catamaran, announces new rates, effective immediately.
$12,320/2 $13,100/4 $13,900/6 $14,700/8 – Caribbean terms.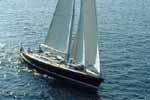 KALIKOBASS II, 104' sloop has a defibrillator on board. Every crew member has received training in its use.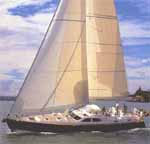 DULCINEA, 63' sloop, will be chartering in New England next summer.
$15,000/2 $16,000/4 $17,000/6 - plus all. Three double en suite cabins.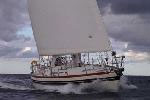 MYSTIQUE, Tayana 55. Bookings for Summer 2006 confirmed by January 15, receive special discounted rates: $4,500/2 $6,500/4 Caribbean terms - inclusive x bar, taxes, dockage, communications. Available throughout the Caribbean. Forward and aft equal en suite double cabins.
NOTE: Caribbean terms - inclusive x bar, taxes, dockage, communications