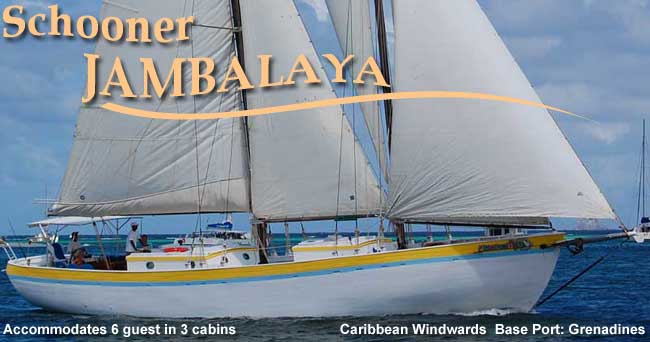 Reasons to sail & explore the 32 islands of the Grenadines on a crewed charter onboard a Traditional & Elegant Schooner
www.charterbrochure.com/jambalaya

Spacious Deck

Elegant En-suite
Master Cabin

Sail with Peter & Sylvie
Why the Grenadines?
The Grenadines' 32 unspoiled islands are situated in the most picturesque sailing waters of the Caribbean! From the volcanic island of St. Vincent—where lush tropical vegetation cradles the surrounding turquoise seas—to Bequia, a true yachting paradise, The Grenadines boasts secrets galore! Adventures begin on other islands like Mustique—the world-renowned celebrity retreat— to the famous marine park of Tobago Cays! Jambalaya's charter clients enjoy exhilarating sails in between these islands…lulled by the warm and steady tradewinds. This is the real Caribbean, untouched, authentic, and welcoming.

Why Jambalaya?
Built in the islands, Jambalaya exudes the details of careful maritime craftsmanship with ample space and comfort! This elegant 73' wooden schooner is filled with comfortable nooks, spacious decks, and grand stability… perfect for gentle cruising in The Grenadines! 
Guests will enjoy the magnificent en-suite master cabin with king-size bed and 9-foot headroom along with its own personal entrance offering unparalleled privacy!

Jambalaya is all-Inclusive:
All meals, drinks, and cocktails are included, as well as a two-person kayak, snorkeling equipment, and even a complimentary Indian head massage!

Meals are magical!
Meals are magical! Chef Sylvie is passionate about providing the best service and exemplary cuisine. Born in France, she has brought aboard her own French-cuisine recipes and has adapted them for local products. Silvie's style is fun and creative … French, with a flair for Creole and Caribbean specialties.

Find the perfect relaxation:
With many years of experience sailing in the Grenadines, Jambalaya's captain will treat her guests to the "out of the way" anchorages and beaches allowing ample time for soaking up the sun and scenery!

A first class welcome:
Jambalaya's crew will meet each guest at the airport and organize transportation to and from the yacht. 
Onboard, the captain will plan the coming cruise, ensuring that his guests make the most of every glorious location. 
Whether our guests are experienced sailors or wish to learn to sail, Jambalaya's crew offers the opportunity to take the helm as little or as often as desired.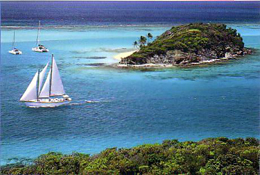 Wake up each morning in a different bay on your own private yacht, "Jambalaya."
| | | |
| --- | --- | --- |
| Table Decoration | Enjoy Caribbean Cuisine | Sail with Dolphins |
New recipes for our 2013 Menu & table presentation coming soon…

Guests cruising aboard Jambalaya may enjoy a romantic, candlelit dinner on Lobster Beach as a part of their itinerary.