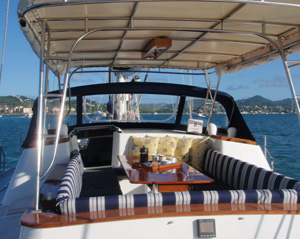 MAKAYABELLA'S NEW CLOTHES!
In keeping with our annual upgrades and to ensure that our yacht is maintained to the highest standard, Makayabella has begun the 2011 season with a smart new spray hood, centre cockpit sunshade, stern cockpit bimini and a new set of centre cockpit cushion backs.
These were all custom made and fitted by the highly renown team of Dave and Jane Royce of The Canvas Shop in Grenada.
Our dinghy also looks like new as well after we had the tubes replaced in St Lucia last November.

Although we know and love the Grenadines as a chartering destination, we are also familiar with and happy to sail throughout the Windward and Leeward Islands. We are pleased to see business picking up and would like you to know that we will be as accommodating and flexible as possible for any last minute charters or special requests.
John Nicholson & Susan Bruce
Owner / Crew S/Y MAKAYABELLA
Recent MAKAYABELLA guest comments

"We were made to feel very welcome as soon as we climbed aboard! I was very relaxed at the end of week and was not looking forward to cooking when I got back as I knew I would have a hard job to match the delights that we were served by Sue—she needs to write a cook book!"

"Both John and Sue have gone the extra mile to make it one to remember! On the first day I was wary of snorkeling. Today I am relaxed and enjoying thanks to John's encouragement. "

"I thoroughly enjoyed the week, especially the company Sue and John gave us. The highlight of the week had to be the snorkeling and being so close to the turtles."

I had a wonderful week aboard with John and Sue. My highlight was mastering the kneeboard. The snorkeling was fantastic with John and Sue pointing out the brilliant wildlife, especially the Stingray!"

Winter 2010-11 Caribbean-
2 - $9,000 4 - $10,500 6 - $12,000
Inclusive except 1 dinner ashore, bar, taxes, dock, communications.
Summer 2011: Caribbean
2 - $8,000 4 - $9,500 6 - $11,000
Inclusive except 1 dinner ashore, bar, local taxes, dock, communications.