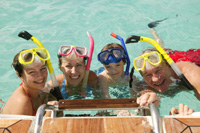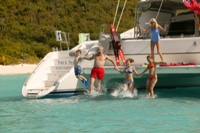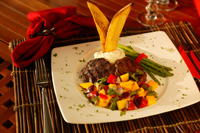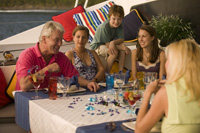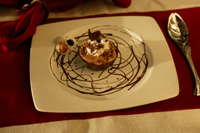 We're proud to announce two of our latest additions to the fleet, ICARUS and ATALANTE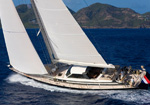 ICARUS is a 2007 Jongert designed by Doug Peterson for six guests. Her design offers ample space and volume for a luxurious and comfortable interior layout, while her sleek lines render exhilarating sailing performance. Her large deck salon is covered by an electric bimini that silently slides fore and aft offering protection from the weather as needed.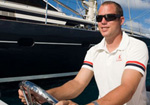 Captain Barry Duck (photo) is a seasoned charter skipper who knows the Caribbean inside out. At one time he was a children's water sports instructor. He's made sure there are plenty of water toys onboard ICARUS and welcomes families.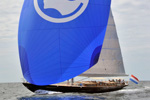 ATALANTE is for lovers of classic yachts, the brand new 90' Andre Hoek designed sloop will surely grab your attention.

Although she sports classic lines, she does have an offshore carbon fiber rig with North Sails. Below decks, guests will have all the modern amenities. A custom side boarding passerelle on her port side offers clients an easy way in and out of the water or dinghy.
Guest Comments from Recent Holiday Charters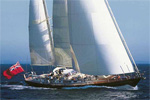 MELINKA - 80' Swan:
"Everything was fantastic; boat and crew were all we had hoped for. Even made our dinner reservation in St. Barths with crew! MELINKA is a perfect boat for sailors and readers as I am sure you know. Thanks for all your help; we look forward to planning next year's trip!"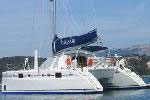 ALIDADE - 58' Catamaran:
"We have just finished a very nice week aboard Alidade. A great boat and Giovanni and Christelle could not have taken better care of us. (And, to note, that a Cat works very well for little ones - our 2.5 year old had a great time and lots of room to play safely.)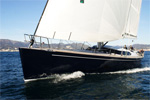 Tahiti and Bora Bora: MATELOT, the Oyster 82, is headed over to the Pacific. She will be based in Papeete, Tahiti, and the Society Islands, where her weekly rate is 29,500 euro plus all, plus 12% tax. In the Tuamotus her weekly rate will be 32,500 euro plus all, plus 12% tax. Captain Angus Fuller suggests: "The Society Islands (Tahiti to Bora Bora) would make a lovely 10-14 day cruising program. However, should guests wish to do the Tuamotus that's fine, but as it's quite a hike to windward to get there, I would recommend we position the yacht and guests fly in and start their holiday from upwind end of the

islands.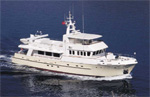 Norway will be the summer home for TIVOLI, our 90' Doggersbank long range cruiser. Captain John is eager to show the Fjords to new and repeat clients alike. Due to the poor economy, he did not take TIVOLI to Norway as planned last summer. At $39,500/week for six guests, plus expenses, this yacht is the perfect stage from which to explore Scandinavia.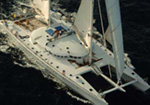 DOUCE FRANCE is headed from the Indian Ocean to Micronesia a favorite cruising ground of her owners, for the summer. Accommodating 12 guests in 6 spacious cabins, this 138' catamaran offers a myriad of water sports from diving to kayaking and a five star crew. DOUCE FRANCE charters for 90,000 euro plus expenses .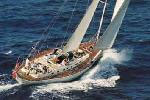 MIRA, the 70' Swede yacht for 6 guests will again be available in Turkey beginning in May. We think May and June are two of the nicest months to be cruising the Eastern Med. MIRA is a performance cruiser with all the amenities of home, including A/C. Captain Argan Bailey has been cruising Aboard MIRA with charter guests for the past few years and is always happy to show off the delights of Turkey to first time guests. MIRA charters weekly for the newly reduced summer price of 16,500 euro/week plus expenses.