Many of the islands are within the country's national park system or animal conservancy. Each island had a different flavor and we were intrigued to see the World Heritage's smallest site, Valle de Mai, as well as the Tortoise herd on Curieuse Island.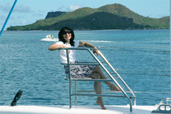 There is enough deck space on board DOUCE FRANCE for 12 guests to spread out and find their own favorite niche while underway. Some of us lounged on the netting between the hulls while others hung out on the bridge with the captain. Two lucky people could snag the bow seats, ( a major advantage of a catamaran- two bows!) The crew, while not hovering, were standing by to bring a cushion to the bow nets or offer a cold drink.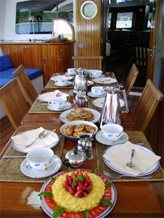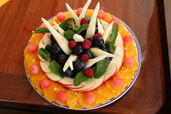 A typical day started with fresh squeezed orange juice and breakfast of our choice. Very often a sculpted display of fresh fruit awaited us. Being the coolest part of the day, we used the mornings for land excursions in the forests or mangrove habitats. And once to an internet café. Communications to and from our mobile phones and computers were spotty. We could receive and make calls from our GSM phones, but the local phone company, Cable and Wireless, could not handle data. After a few frustrating tries, we learned to live email-free!



Chef Shelaine has been raised and trained in Mauritius .His food and presentation equal that of any of the finest landlocked restaurant in the world. There was absolutely nothing he couldn't do! In fact, we found out at the end of the charter that the whole crew got involved in food preparation. Captain Pascal admitted to enjoying slicing vegetables paper thin! Teaming up in the galley was typical of this crew who work together with seamless ease above and below decks.

Nowlen the engineer and dive master is married to Sabine, the head stewardess. Both have endless energy and a quick smile. Nowlen took everyone diving who wanted to go and was a patient and kind water ski instructor as well. Working alongside Sabine behind the bar and serving was the sweet and shy Anais. I could never figure out how they managed to sneak into our cabins and clean unobserved while we were having breakfast. Each night, at turn-down, they covered the port holes with black out shades to keep the cabins cool and dark. Craig and Miguel helped us in and out of dinghies and assisted us with our fishing poles. One of the great delights on board was eating our fresh caught fish daily. Miguel doubled as our nature walk guide through the mangroves on Curieuse and through the forest on Therese to search for ancient pirate treasure.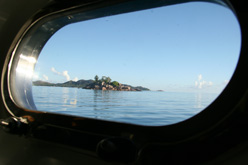 As a destination, the Seychelles are indeed special. There are very few yachts in the area and the striking granite rise of the islands is breath taking. The snorkeling is excellent as is the diving. Most of the islands are unpopulated. Those that are populated have little if any nightlife. This destination is for sailors who seek a tropical alternative to the Caribbean.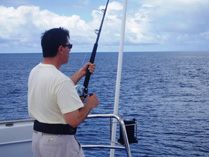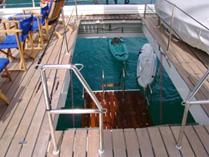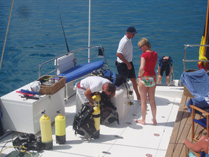 DOUCE FRANCE and her crew will provide charter guests with a memorable vacation. They have any water toy a guest could want including water skis, wake board, laser sailboats, kayaks and more. The six cabins all have beds which can convert between singles and doubles. There are two larger cabins in the middle of the hulls. The four remaining cabins are only slightly smaller. All cabins have ensuite facilities with showers and plenty of hot water. Both the salon and aft deck have comfortable seating. There is one large screen TV in the salon and a sound system that goes throughout the yacht. Each cabin has its own iPod station.